If you're looking for advice on how to use Salesforce Marketing Cloud or Pardot, the best course of action is often to search the web and read independent blogs. The Salesforce marketing community is thriving
The top Salesforce Marketing Cloud and Pardot blogs list in 2020 listed 25 sites – in 2021, the list has ballooned to 35+. While this proves the community is growing (especially the Marketing Champions program), almost all the blogs have been maintained with regular content. As you may know, committing to posting regularly is the biggest hurdle for bloggers starting out – so this is a really positive sign.
There were no strict criteria to qualify for this list, other than having an active and informative blog. Have I missed anyone? Please let me know in the comments!
Pardot Influencer Blogs
The Spot for Pardot
The Spot for Pardot has been a Pardot community staple for several years. Andrea Tarell, Pardot consultant & Salesforce MVP, shares how-tos and ideas with a humorous and punchy spin – plus the occasional war story from her 8+ years working with the Pardot platform. The Spot for Pardot now has contributions from some of the brightest stars in the Pardot community.
Jenna Molby
An absolutely indispensable blog for the Pardot community, Jenna Mobly is a long-time blogger that became a household name for Pardot users with her clear-cut best practice advice and tutorials on how to get more sophisticated with Pardot marketing assets.
Popular topics include Pardot form customization,using UTMs with Pardot, and email template magic. Is it time you gave your marketing assets a makeover?
Pardot Geeks
Pardot Geeks is a Pardot power-house collaboration between Ben LaMothe, Katie Clubb, Nathalie Starr, Lori Trzcinski, and Marah Studniski. Recent features include Ben LaMothe's Pardot career panel series that outlines typical Pardot careers, before diving into the consulting, education, and nonprofit Pardot career paths.
Unfettered Marketing
Unfettered Marketing is the witty name concocted by Bill Fetter, a Digital Marketing and Pardot Consultant with a heap of character. Bill shares easy-to-understand blog posts from his deep B2B marketing experience.
Paul B. Fischer
Paul has a great knack for saying it how it is…no sugar coating here! Find posts on hidden tricks in Salesforce/Pardot, and has a few 'what I wish I knew' posts (including a great piece on AMPSEA).
Marketing Finds
Lori is a Marketing manager turned marketing automation/CRM consultant (best of both worlds). You may be getting deja vu, as she also is a writer for Pardot Geeks. Check out Marketing Finds for more of Lori's gems.
Marketing Cloud Influencer Blogs
sfmc-curated
sfmc-curated is your one-stop-shop for Marketing Cloud content – I don't say this lightly. The brainchild of Zakaria El Jazouli, it's a site that brings together new content from many blogs (several of the ones featured in this list) via RSS feeds.
SFDCFanBoy
Manish aka.sfdcFanBoy<, is a new MVP on the block – but not new to Salesforce, with 11+ years of Salesforce experience, 7x certified, currently a Salesforce Technical Architect by profession.
Manish blogs mostly about Marketing Cloud, also find lots on Flows, Visualforce and <Apex.
SFMC Geeks
Nathalie is back again on the list, showcasing her marketing automation dexterity with 'SFMCgeeks' (sister blog to PardotGeeks). Run alongside Lesley Higgins, their tagline "Help from one SFMC Admin to Another":
HowToSFMC
HowToSFMC is run by a group of SFMC users and consultants who have built new functionality with the goal of "expanding where the documentation ends". In addition to articles, they run competition-style 'Tasks' where readers can submit solutions every month.
mateuszdabrowski.pl
Mateusz Dabrowski is another Marketing Champion that has committed to writing regularly and sharing his valuable Marketing Cloud insights.
Gortonington.com
Gregory Gifford is a Salesforce MVP and Salesforce Marketing Champion, with over 12 years of experience in Digital and Email Marketing. His philosophy is "When things become easy, then you know you aren't trying hard enough."
Tidbits For You
Shibu has a great collection of 'tidbits' on his blog, designed to be shorter digestible posts on specific subjects. He also has a great video series on SFMC Automation Studio that is worth watching to prepare for certifications.
MCchat
No Salesforce blog round-up would be complete without the King of AMPScript, Elliot Harper. Elliot has an encyclopedic knowledge of Marketing Cloud, which he shares in video format on his blog MCchat.
Find more on The AMPScript Guide by Elliot (in collaboration with Adam Spriggs).
Sprignaturemoves
Another King of AMPScript, Adam Spriggs, has built up an AMPScript goldmine on Sprignaturemoves, his personal blog. Find tips on other aspects of Marketing Cloud, such as known issues, Journey Builder, and SQL.
Find more on The AMPScript Guide by Adam (in collaboration with Elliot Harper).
Jyothsna Bitra
Jyothsna certainly knows Marketing Cloud well! She's a Marketing Cloud Consultant, oh… and 15x Certified Salesforce Application Architect! Look to her blog for curated resources that pool together highlights from meetups and other events eg. Technical Marketers Meetings.
AMPScript.xyz
AMPScript.xyz is another great AMPScript resource by Ivan Razine, with a clean, no-fuss layout.
Sfmarketing.cloud (By Zuzanna Jarczynska)
Zuzanna's blog is suitable for all levels, including a Marketing Cloud 101 series.
More Marketing Cloud Blogs!
There are other Marketing Cloud blogs definitely worth checking out:
Consultancy Blogs
Nebula Consulting
Pardot
Nebula are a UK-based consultancy with a strong team of consultants, and an equally solid blog! I promise that soon after landing on their site, you will quickly find out something that you didn't know before.
Idealist Consulting
Pardot
Idealist Consulting are based in Portland with a blog that really 'pops'! Contributors include Pardot Solution Architect/Marketing Champion Kirsten Kippen.
DESelect
Marketing Cloud
DESelect are a Belgium-based Salesforce AppExchange ISV that developed an easy, drag-and-drop interface for data segmentation in Marketing Cloud. Naturally, their content revolves around segmentation and data models, but you will find plenty of tutorials and use cases by industry.
MarCloud Consulting
Pardot
UK-based Marcloud Consulting has grown from strength to strength, including producing some quality content and now branching into developing apps for Pardot (see a gap, solve it). Take this chance to self-audit your Pardot org, and test drive some extreme dynamic content!
Destined
Pardot
Destined have Claudia Hoops and Tammy Beagley on their team, who love taking on even the most thorniest of Pardot challenges, and magic up imaginative solutions. See some of theirs in action:
Cloud Kettle
Marketing Cloud
Cloud Kettle's blog is powered by Eliot Harper, Nadia Nasrallah, and others. Get a glimpse into the minds of Marketing Cloud consultants, with plenty of resources to key your SFMC account on track:
Greenkey Digital
Pardot
Greenkey Digital is a boutique consultancy headed up by Salesforce Marketing Champion Jen Kazin. You may find some trade secrets shared on their blog – take a read!
Other consultancy blogs definitely worth checking out:
Looking for more Salesforce blogs? Check out Admin and Developer blogs rundown.
---
This Pardot article written by: 

Salesforce Ben | The Drip
Lucy Mazalon is the Head Editor & Operations Director at Salesforceben.com, Founder of THE DRIP and Salesforce Marketing Champion 2020.
Original Pardot Article: https://www.salesforceben.com/the-drip/top-salesforce-marketing-blogs/

Find more great Pardot articles at www.salesforceben.com/the-drip/
Pardot Experts Blog
We have categorized all the different Pardot articles by topics.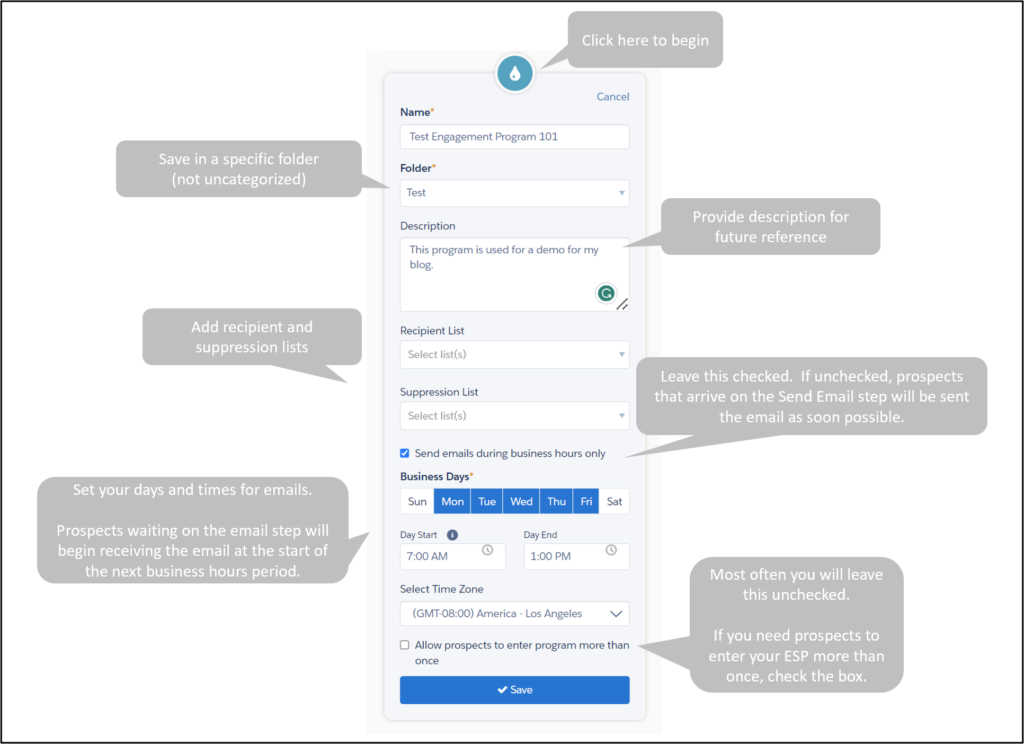 The Engagement Studio Program (ESP) is my all-time favorite application in Account Engagement (probably because it's the most intuitive)!
---
This Pardot article written by: 

Salesforce Ben | The Drip
Lucy Mazalon is the Head Editor & Operations Director at Salesforceben.com, Founder of THE DRIP and Salesforce Marketing Champion 2020.
Original Pardot Article: https://www.salesforceben.com/the-drip/top-salesforce-marketing-blogs/

Find more great Pardot articles at www.salesforceben.com/the-drip/