Salesforce Engage is a Pardot product on a mission to bridge the gap between marketing and sales. You could say that it's the Salesforce sales user's window into relevant marketing information in Pardot, aiding transparency across teams.
Since being released (Summer '15), Engage has received a mixed bag of response: those who love it, and those who don't yet see the entire value of the tool. If you are a little perplexed about what this Pardot/Sales Cloud add-on actually is, here are 10 elements of the Salesforce Engage tool that show how it benefits both Sales and Marketing teams.
1. Easy Prospect Filtering
Sales agents know who they want to target at a granular level, but dividing contacts manually is tedious. With Engage's Prospect Filtering feature, Sales users can select Prospects based on data collected in Pardot that they couldn't see otherwise.
Prospect filtering allows a user to filter at 3 levels:
Assignment: Filter by the sales user's assigned Prospects or Visitors with no Salesforce Lead/Contact record.
Activities: Filter based on any of the 9 activities available in Pardot, such as form submissions or event and webinar registration.
Geography: Filter according to contact location, selecting by single or multiple countries, or at the regional level.
If a Salesperson wants to send personalized invitations for a networking dinner in London to Prospects who attended a recent webinar, they can easily filter Prospects by location and then by webinar registration.
Filtering helps Sales agents work more efficiently and with a higher success rate, as they can avoid "blanketing" an unnecessarily large audience with irrelevant messaging.
2. Engage Campaigns
Once Sales users have filtered their Prospects into desired groups, they can construct and run their own email campaigns for the target audience using Engage Campaigns. This removes the need to manually craft personalised emails.
Source: Trailhead
Read the tutorial: How to Send Emails Using Salesforce Engage – Plus Templates
Salesforce Engage makes personalisation effortless, as Sales users can launch email campaigns directly from Salesforce and leverage Pardot merge fields (using HML) to tailor messages.
With the 'Send-on-behalf-of' feature, Sales users can even send on behalf of another user and personalise the "from address" of their campaigns to be the lead, contact, or account owner.
Source: Pardot Blog
Admins will need to give delegated sending permissions by assigning custom permissions on the user's profile.
3. Consistent Branding Across Email Campaigns
Manually creating and sending emails is not only inefficient for the sales team but can also be frustrating for the Marketing team, as individual sales agents may leverage different brand assets.
Engage allows the Marketing team to provide the assets for campaigns. All Sales users have access to the same marketing-approved email templates and content to create their campaigns, rather than designing emails themselves. This makes the Sales team's job easier and allows the Marketing team to direct the branding.
Lead nurturing becomes a collaborative cross-team effort where Sales and Marketing team members don't tread on each other's toes.
4. Inbox Plugins for Gmail and Outlook
Salesforce Engage offers plugins for both Gmail and Outlook (at the time of this writing). Salespeople can track opens and clicks, and insert email templates straight from their "compose email" box without having to leave Gmail or Outlook.
Source: Trailhead
The plugin also automatically logs all email interactions in Pardot and Salesforce so there is no risk of losing key information. Emails go from being banal and one-shot to trackable, well-formatted, and effective communication.
Note: Engage for Gmail is a Chrome extension. Engage for Outlook requires that the Outlook integration is enabled in your org.
5. Deeper Insight into Prospect Activity
Salesforce Engage provides the Sales team with a window into Pardot data, so Sales users can see exactly what their assigned Prospects have been up to and use that to inform their outreach efforts.
Pardot can track email interactions and web behaviour (such as page views, downloads, and paid search clicks), giving Sales an added layer of intel. With real-time insight into which Prospects have recently visited the website or downloaded an e-book, Salespeople can come into every interaction more prepared.
Source: Trailhead
6. Real-Time Engage Alerts
Not only can Sales users see the behavior of their assigned Prospects, but the tool can also alert them at ideal times to reach out to Prospects.
Sales users can set up Engage Alerts to notify them in real-time when a Prospect has key action or interaction with company communication (eg. opening an email) or collateral (eg. downloading a PDF resource).
These concise alerts also act as a safeguard for preventing information overload for already-stretched Salespeople.
7. Organized User Interface
The user interface is designed for clarity, displaying information in an organized manner.
Engage Alerts are arranged on a card-based column view. The columns are filtered by specific criteria, and editable without System Admin intervention, giving Sales users more control over their own interface.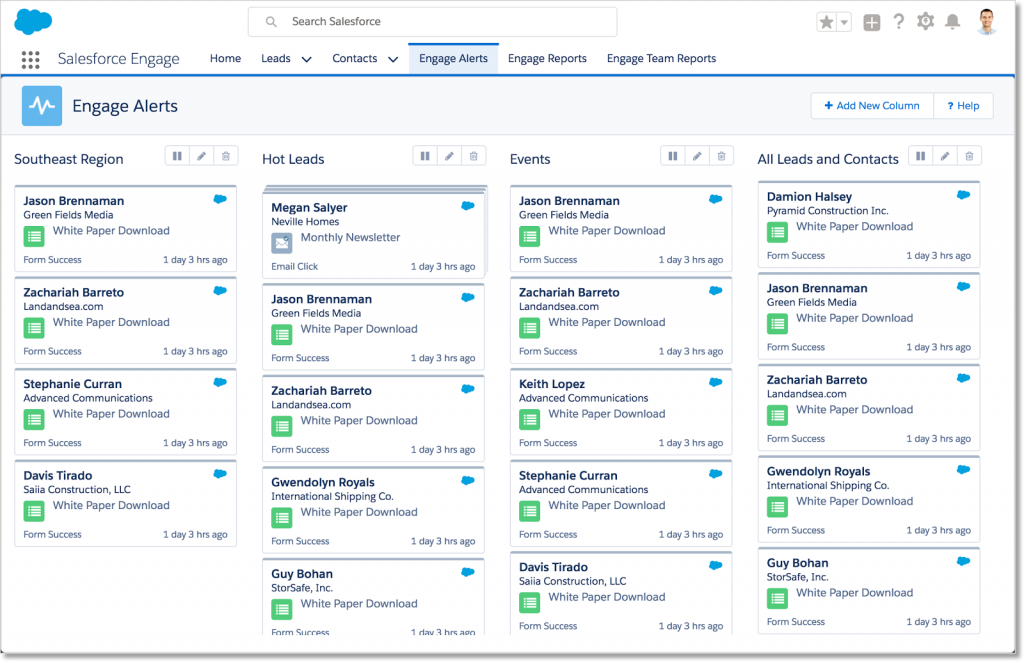 Source: Trailhead
Alert Cards are sorted by Prospect (depending on column filters) with the most recent on top, enabling Salespeople to prioritise their efforts. Simple icons are used to label different interaction types for easy "at a glance" identification.
8. Mobile Access for On-The-Go
Salespeople rarely spend the whole day at their desks. Engage functionality is available on mobile through the Salesforce Mobile App, allowing Sales users to see and respond to Prospect activity when they're on the road.
The information is scaled down for the mobile view, showing up to 100 Prospect activities from the past four days. Sales users can see real-time updates, add leads to nurture campaigns, and respond right at the moment of engagement — all straight from their mobile device.
Engage is mobile-optimised, with the added ability for Admins to define different Filters and Actions for the app than those on the browser.
9. Clear Reporting for Strategic Insights
Both Sales and Marketing users can generate instant reports based on Templated or Non-Templated email sends, and see visual performance charts of their own emails over any timeframe.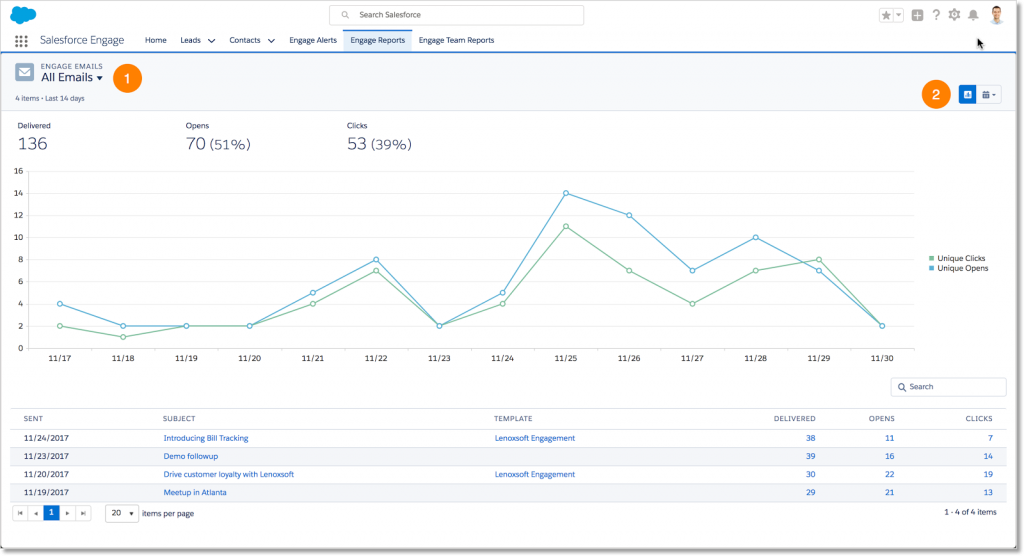 Source: Trailhead
The Engage Team Reports feature allows teams or individuals to see metrics for email campaigns, such as which emails and templates produce the most interaction over a specific date range. Marketers can view results from all Engage users' emails to understand which templates or campaigns are performing best, and inform their strategy moving forward.
Source: Trailhead
10. Little Training Required
Salespeople are often too busy to spend significant time learning a new tool. Engage is user-friendly and simple, requiring very little training for Sales users to pick it up.
Salesforce Engage essentially acts as a stripped back Pardot, delivering Sales users only the relevant functionality for their jobs. Some Sales users may want a quick tutorial on how to access the Alerts and Reports tabs, filter Prospects, or set up Campaigns — but many will be able to dive into these features on their own.
If they are already Salesforce users, most Salespeople can hit the ground running with Engage.
Licensing Salesforce Engage
Salesforce Engage is a separate license from Pardot. Unlike the Pardot "bucket" license, Engage licenses are issued as one per person. Pricing is transparent, at $50/user/month (at the time of this writing).
Once the licenses have been purchased, a Salesforce Admin will need to assign the licenses to the team before they can get to work.
Keep your eyes peeled for new developments with this product — I'll continue updating this post periodically to give you the most up-to-date information!
---
This Pardot article written by:
Salesforce Ben | The Drip
Lucy Mazalon is the Head Editor & Operations Director at Salesforceben.com, Founder of THE DRIP and Salesforce Marketing Champion 2020.
Original Pardot Article: https://www.salesforceben.com/the-drip/engage-10-points/
Find more great Pardot articles at www.salesforceben.com/the-drip/
Pardot Experts Blog
We have categorized all the different Pardot articles by topics.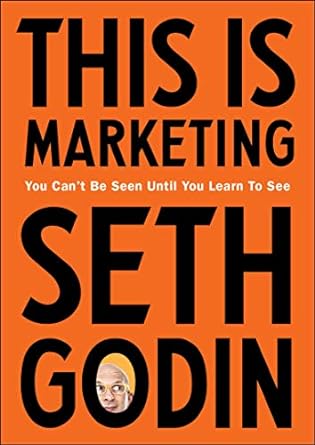 In the fast-paced world of digital marketing, staying ahead of the curve is crucial for success. Marketing automation has emerged as a…